High Kountry Airedales
Airedale Terriers in large to extra large sizes from working lineages
Extremely Rare Reds (less than 150 worldwide) as well as blacks and traditional black & tan Airedales
More info and photos at www.hkairedales.com!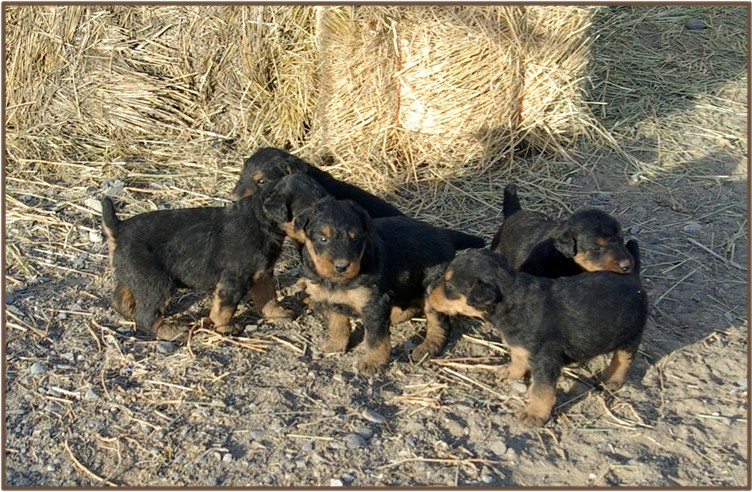 Miss Abby and Kody's puppies at four weeks old.
Please see www.hkairedales.com for additional photo pages, frequently asked questions, and more detailed information.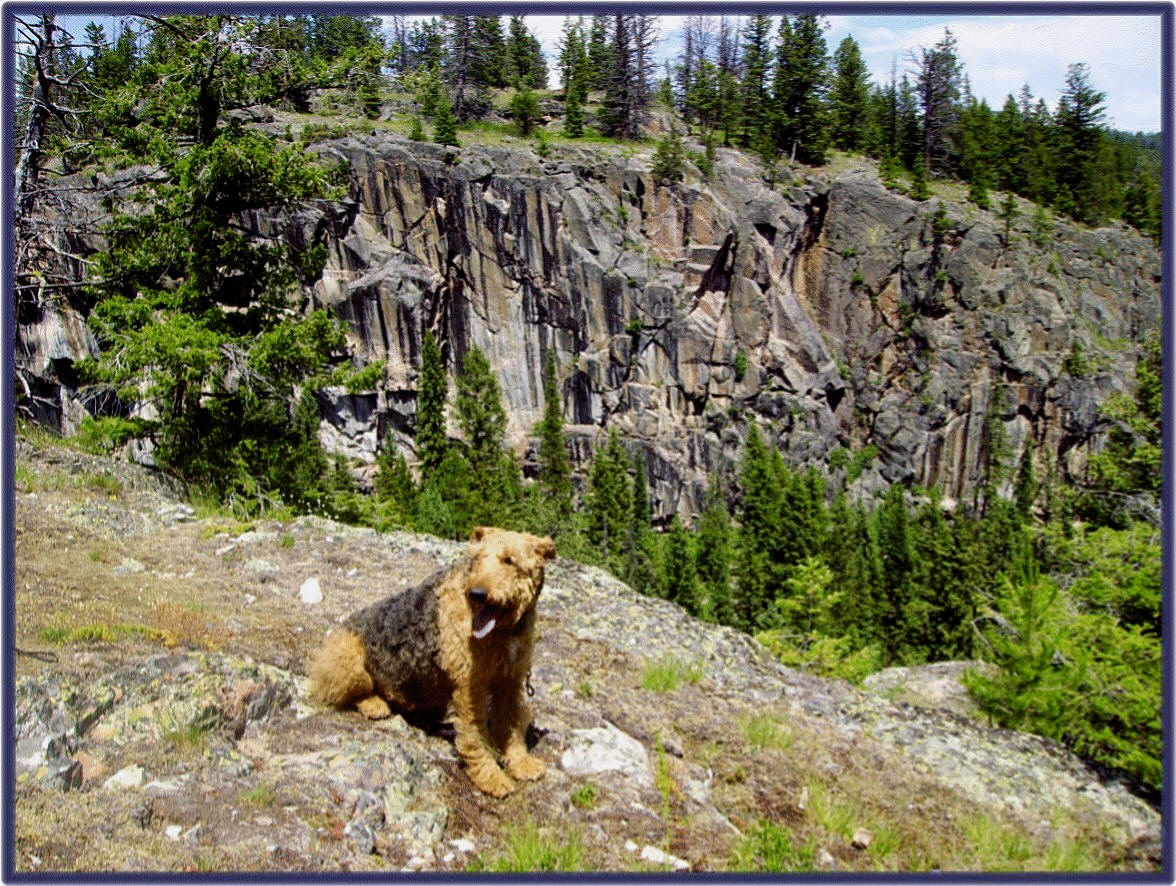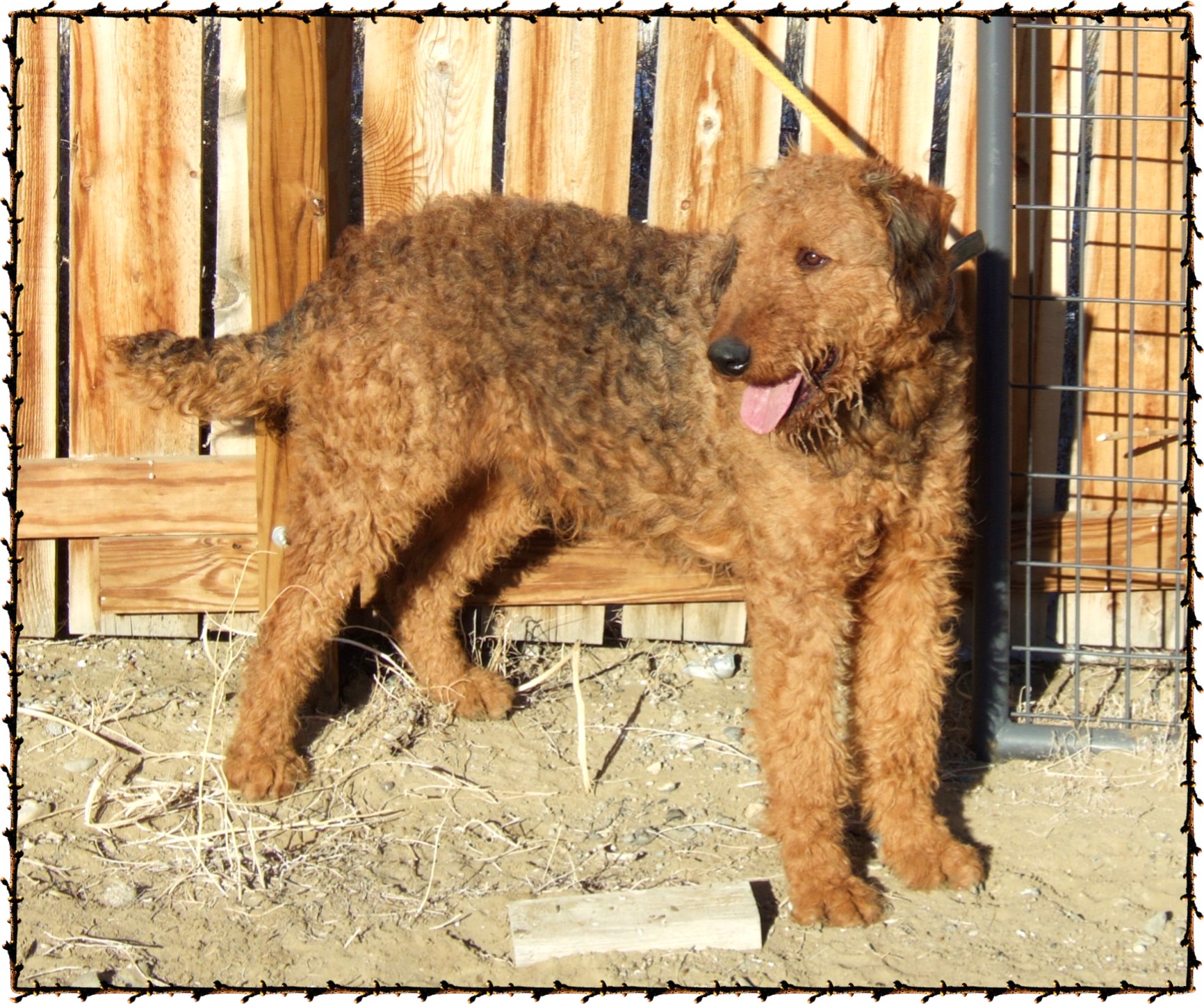 Tonka, a red Airedale (above) stands 29 1/2 inches at the shoulder
High Kountry Airedales is located in northwestern Wyoming at about 25 miles east of Cody and 75 miles east of Yellowstone National Park. We are located about 40 miles east of Shoshone National Forest, the first national forest established in the U.S. Kennel visits are welcome as are questions.

Maintained at our rural residence, our Airedale kennel is a serious hobby for us and we love our dogs. The females are only bred once a year sometimes less often. We breed selectively for temperament and other attributes. The dogs exercise and play several times a day in the large dog runs which range from about 80 x 150 feet to 120 x 200 feet in size. Plastic wading pools are available to frolic in during the summer months. Quite a few of our Airedale Terriers love to play in the water.

In addition to loyal companions and loving family pets (and good obedience students), our Airedales have served as certified therapy dogs, search and rescue, cow dogs, and archaeology field dogs. Possessing considerable stamina, they often accompany us to work in a variety of settings ranging from the badlands to rugged mountains including grizzly bear habitats in Shoshone National Forest.
Please feel free to give us a call at 307 754-3426 for prices and additional info concerning our Airedales. No hard sales push, we promise. As a general policy, we do not provide our prices via email due to past experiences with fake names/emails generated by other breeders. We apologize for this inconvenience. References are available upon request.
Two litters of Airedale Terrier puppies born on December 14 and 19 of 2007 from large working lines. The first litter consists of black & tan AKC pups while the second litter includes Extremely Rare Reds as well as black & tans. The babies will likely grow to large or possibly extra large adults. Photos are posted on the New Airedale Pups page. Please feel free to contact us for more info.
Comprised of black & tan puppies, the December 14 litter is from Kodyman and Miss Abby. Kodyman is a descendent of Ch. Blackjacks Doubledown Danny who can be traced back to Airedale Jerry, purportedly the first Airedale in the US. The December 19 litter includes both black & tans and very rare reds. The parents are Fancy's Kateybug and Tonka Truck (photo in upper portion of page). The pups' tails were docked and dew claws removed by our vet when they were about a week old. Puppy shots shall be kept current.
We operate a small archaeological consulting firm and our Airedales frequently accompany us into the field. This often involves extensive hiking in a variety of settings including oil/gas fields, rugged badlands, and scenic mountains including grizzly bear habitats.
I (Pat) broke my ankle/lower leg early this summer and underwent surgery (plates & screws). Quite protective, my black AIredale Mariah (photo left) is excellent to handle in the field; she will stop instantly if commanded to and not drag me down steeper trails or slopes. My buddy will also help pull me uphill if needed. Accustomed to encountering livestock and wildlife, she has worked with me since puppyhood in late 1999. I've also handled our Airedales (always leashed) in the field while on crutches and only partially weight bearing.
A Bit More on the Black and Red Airedales
Our Airedales are purebreds, not crossed with crossed with other breeds such as Labrador or Irish Terrier, etc. to produce the red and black colorations. AKC will not accept the black or red on the basis of color so these dogs are registered through States Kennel Club, an international registry. On very rare occasions, two black & tan Airedales will produce a black puppy. In the past, the breeders often either sold the black pup without papers or put the pup down trying to keep the incident a secret.
Research documents the black Airedales' existence back to at least World War I. They were used quite efficiently as a messenger dogs - their coloration rendering them virtually invisible at night. The red Airedales are exceedingly rare with less than 170 worldwide.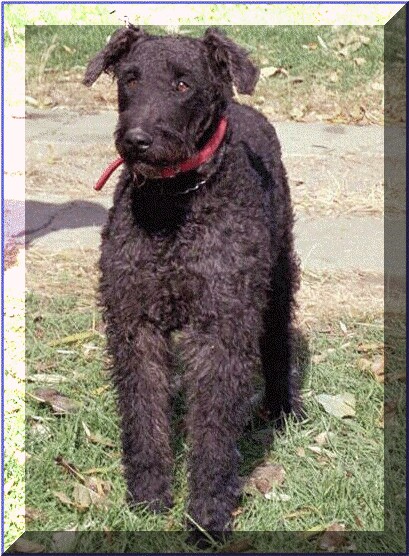 Photo of our beloved Roc who passed away in late September of 2006. A true Airedale and devoted companion, he will always be missed and never forgotten. He is the great-grandfather of our Black Magic.
Please feel free to contact us at 307 754-3426 for additional information about our dogs and puppies or email us at airedale@tritel.net